Arguignano came up with this impressive recipe that lacks detail. With all the flavor of the broth the chicken was cooked in and the special flavor that Arguignano always brings to his recipes.
Ingredients for 4 persons.
8 chicken legs
4 carrots
1 bulb
2 egg yolks
25g flour
30 g butter
60 ml liquid cream
juice of 1 lemon
extra virgin olive oil
Salt
6-8 cloves
2 sprigs of rosemary
1 sprig thyme
parsley
Development
Peel the carrots, cut each into 4 pieces and turn over. Heat water in a saucepan, season it and add carrots. Boil them for 8-10 minutes. Drain the water, drizzle them with a little oil and save them.
Put the chicken legs in a pot, add rosemary sprigs, thyme sprigs, cloves and onions (peeled and whole). Fill them with water, season and close the pot. Cook them 5 minutes from the moment the valve is lifted. Remove the drumsticks and save them. Strain the broth and save it.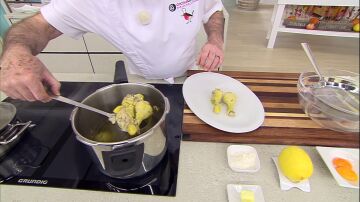 For the sauce, melt butter in a frying pan (wide and low), add flour and fry a little. Pour in 2-3 ladles of broth and cook (stirring) the ingredients until a homogeneous sauce is obtained. Pour in the lemon juice, stir and add the fried chicken thighs. Cook everything together for 4-5 minutes. Remove the saucepan from the heat.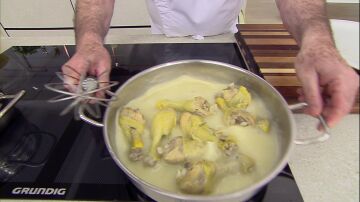 Mix egg yolks and liquid cream in a bowl and add some chopped parsley. Pour the mixture into the saucepan and stir the pan until the ingredients are combined.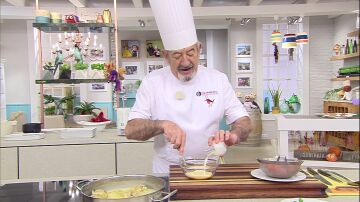 Arrange 2 chicken thighs on each plate and top with inverted carrots. Garnish the plates with parsley leaves.
Advice
Do not throw away the pieces left after turning the carrots. You can use them and cook them along with a couple of potatoes and leeks and then make a cream.