If you're looking for how to make apple pie, we've got three options that you're sure to master if you want to. biscuit type, puff pastry or shortcrust pastry (broken mass).
When it comes to homemade apple pie, the options are endless, but these three recipes have one thing in common: they're simple, quick, and delicious for breakfast, a snack, or any time of the day. Except, you can arrange them to your liking by accompanying them with jam peach or apricot, for example.
Another good idea to decorate a homemade apple pie is to top it with fresh mint leaves or sprinkle with powdered sugar. You want to know how to make a good apple pie? Note!
homemade apple pie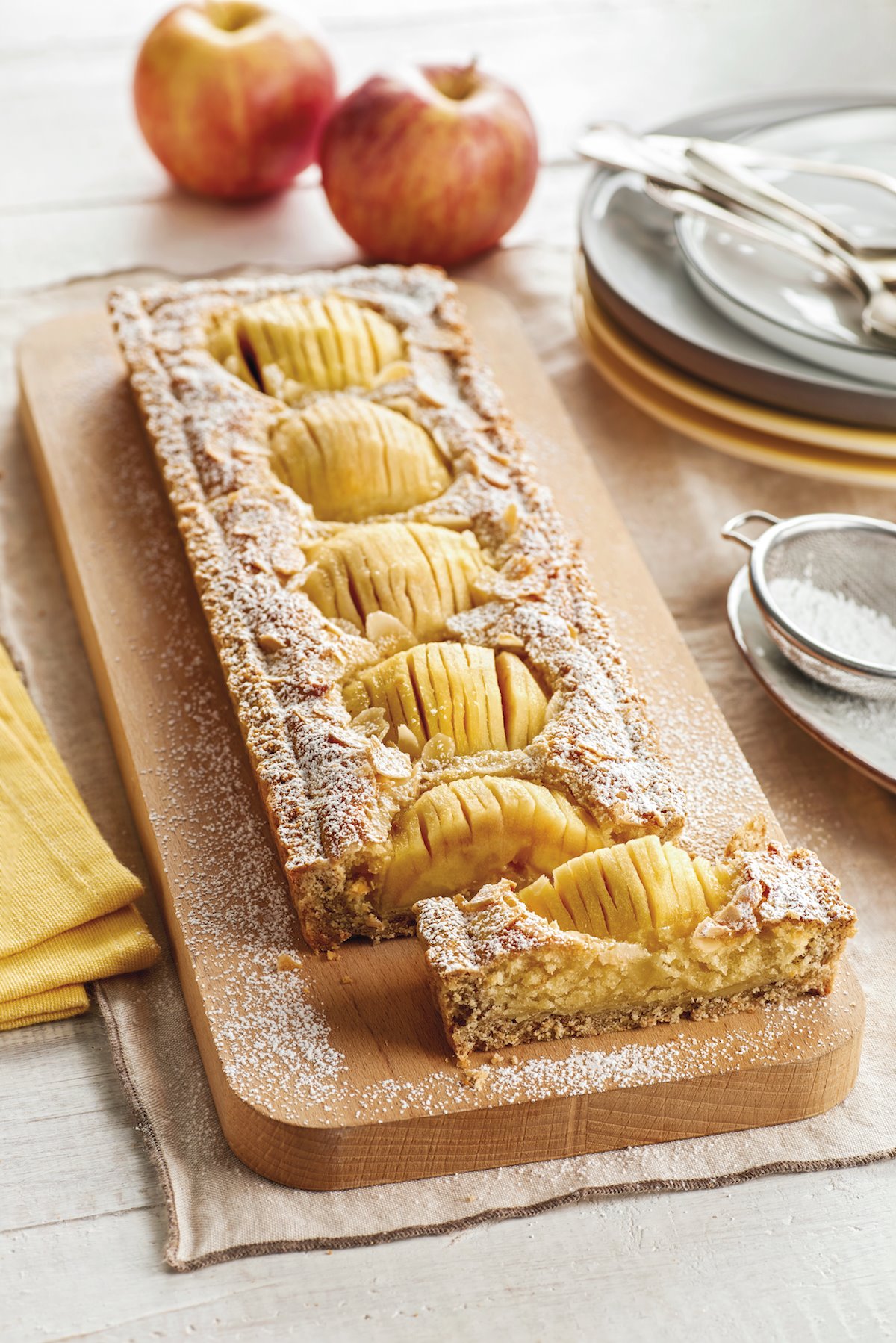 Quick, easy and perfect for breakfast, snacks and even for pampering yourself at any time of the day. With this cake you will win at home and you can encourage the kids to do it as a family. Don't forget to preheat the oven to 180 degrees to save time and prepare a pan (greased with butter or lined with baking paper) in which to bake your cake.
easy apple pie
For 6 people
Ingredients
4 eggs
2 good sized apples
plain yogurt
Baking flour (three cups of yogurt)
Sunflower oil (a glass of kefir)
Sugar (two cups of yogurt)
Yeast package
Powdered sugar
Step by step
Prepare the mixture

In a large bowl, mix four eggs, sunflower oil, sugar, flour, baking powder and beaten apple. Everything will be whipped with force and consistency until all the ingredients form a homogeneous mass without lumps. A good option is to pre-sift the flour and yeast. Pour the contents into a pre-prepared form (oiled or lined with baking paper).

Cut and place the second apple

Cut the second apple into thin slices and place them on the dough, forming the pattern that you like best.

bake your own cake

Bake for 30 minutes (with the oven already preheated) and when done, let cool on the outside so that the pastry is done.

Decorate with powdered sugar

When the cake has cooled, you can add powdered sugar sprinkled on top and a few apple slices to keep it fresh.
Apple puff pastry pie
Fall in love! This is how this apple pie recipe looks like, in which we are going to use puff pastry to give it an irresistible crunchy touch, and which we will decorate with apricot jam. Perfect frosting!
Puff pastry pie with apple
For 6 people
Ingredients
Two apples
Puff pastry sheet
a tablespoon of butter
Egg
fresh mint leaves
Two spoons of sugar
Two tablespoons of apricot jam
Step by step
Prepare puff pastry

Cut out a rectangle from the puff pastry and place it on a baking sheet. Pierce the middle with a fork, leaving the edges unpierced.

Add stuffing

Peel the apples and cut into thin slices (crescents), removing the cores. Lay the apples on a sheet of puff pastry, covering the entire central part of it, and brush the edges with a beaten egg. Add small cubes of butter to them and sprinkle with sugar.

Bake and decorate an apple pie

Put the puff pastry in the oven (preheated) at 170-180 degrees for 20-25 minutes. Remove the tart from the oven and brush the surface with apricot jam. Garnish with a few mint leaves, serve in portions and… enjoy!
Shortcrust pastry or shortcrust pastry apple pie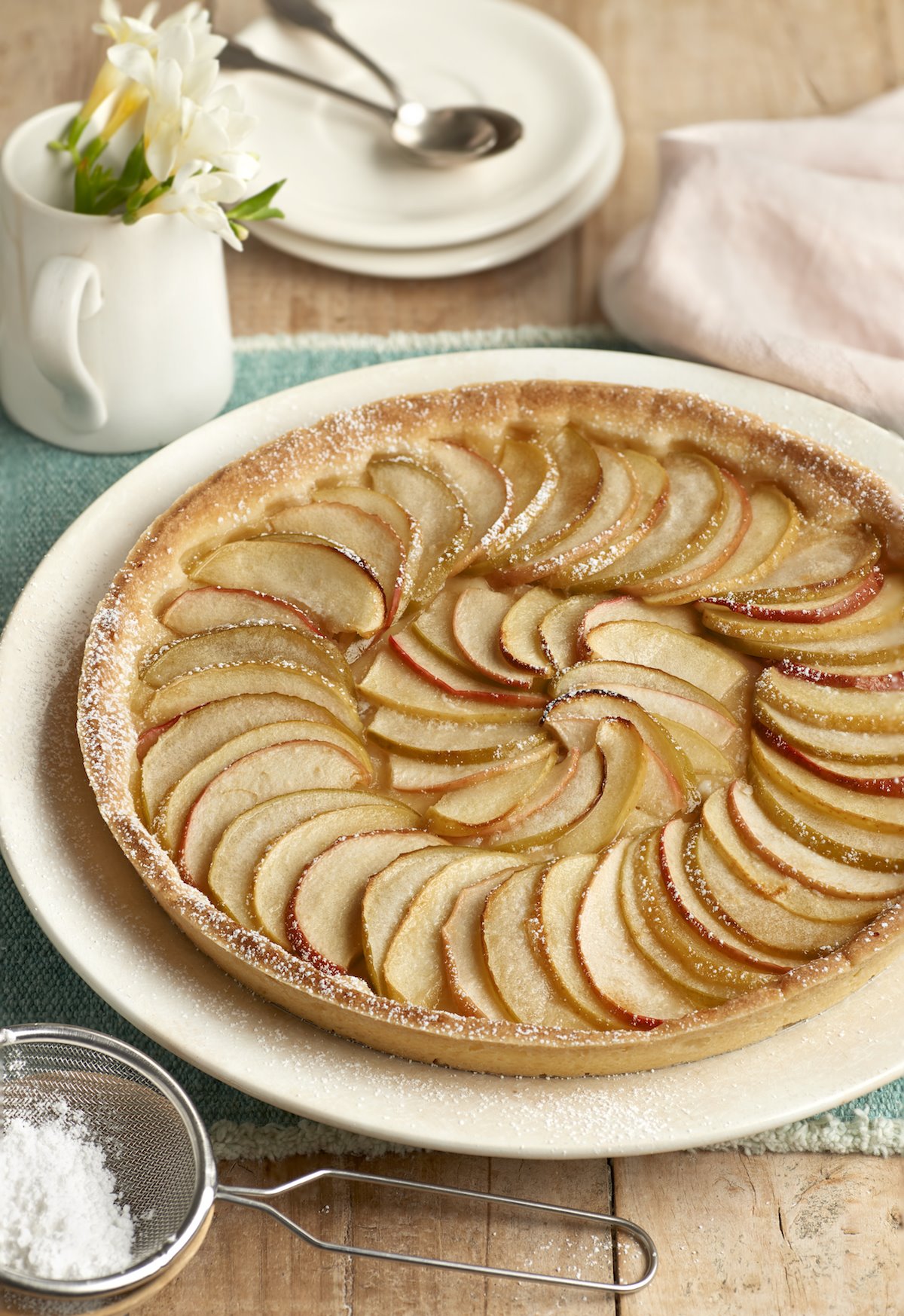 If you prefer to prepare snacks shortcrust pastry or shortcrust pastryit's your recipe! Very easy to do and the result couldn't be better.
Shortcrust pastry or shortcrust pastry apple pie
For 6 people
Ingredients
4 apples
Shortcrust pastry or shortcrust pastry sheet
4 eggs
Half a liter of whole milk
120 grams of sugar
50 grams cornstarch
50 grams of butter
vanilla pod
Lemon
Step by step
Prepare custard

Open the vanilla pod and take out the seeds. Separate half a glass from half a liter of milk and refrigerate, and pour the rest into a saucepan. Add the lemon zest, vanilla pod and seeds and cook over medium heat until the mixture comes to a boil. Let stand from heat for 20-30 minutes.

Thicken the custard

Add corn starch to milk in the refrigerator and mix well. Put the yolks with sugar in a medium-sized saucepan (without heating), beat and, when everything mixes well, add milk with corn starch. Keep hitting. When the first mixture has settled, take a sieve and place it over a pot of cold milk and strain the cold milk. Heat over medium heat and stir well until thickened.

Pour the cream over the shortcrust pastry

When the cream has settled, pour it over the already prepared pasta. Peel and cut the apples into thin slices and place them on top of the custard. In the oven, preheated to 180 degrees, insert the cake for about 20 or 25 minutes.

Let rest and decorate

Remove the cake from the oven and brush it with sour jelly or a little peach or apricot jam. This is very good!
Nothing like this make homemade sweetsso we leave you a few more suggestions to encourage you with these recipes with which the house will be saturated with irresistible aromas.