Eva Argignano has prepared a millefeuille cake with simple steps and with a look that will not go unnoticed by anyone. This is a "classic and successful" dessert that you will always succeed with.
Ingredients, for 12 persons
3 sheets of puff pastry
500 g sweet whipped cream
500 g pastry cream
75 g granulated sugar
small strawberry
mint leaves
For the yolk cream:
150 g sugar
100ml milk
20 g refined cornmeal
1 egg
4 yolks
Development
Place a sheet of puff pastry on a baking sheet lined with baking paper, cover with another sheet of baking paper and place another baking sheet on top. Place another sheet of paper on the top baking sheet, spread out another sheet of puff pastry, line it with baking paper and another baking sheet. Repeat the process until you have placed the third sheet of puff pastry (you will need 4 baking sheets in total). Bake them at 180º for 30 minutes.
For the yolk cream, put sugar and refined cornmeal in a bowl, mix, pour in the milk and stir well. Add the egg and yolks and stir until the ingredients are well combined. Heat it (still stirring) over low heat until it thickens. Transfer to a bowl, cover with cling film and wait for it to cool.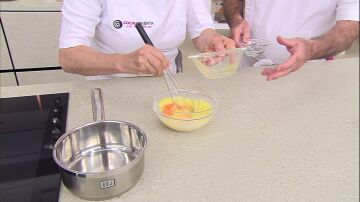 Put the whipped cream in a piping bag with a shaped nozzle. Introduce pastry cream into another sleeve with a different curly nozzle.
Lay a sheet of puff pastry on the table and spread the yolk cream on top. Sprinkle it with (grain) sugar and light it with a burner until you get a thin layer of caramelized sugar.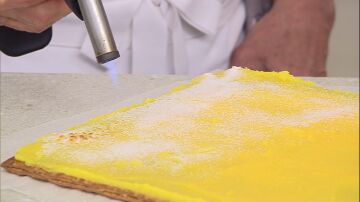 To assemble the millefeuille, spread another sheet of puff pastry on the table and cover it (with buttons) with cream. Put another sheet of puff pastry on top and brush it with custard buttons. Finally, place a sheet of puff pastry on top with caramelized egg yolk cream. Garnish with whipped cream, strawberries and mint leaves.