Today, Carlos Argignano is preparing a fun and original homemade pizza. In this case, it is cooked with cheese, mushrooms and serrano ham. However, he adds the finishing touch by adding a few quail eggs just as the pizza is about to be done. Enjoy this delicious menu!
Ingredients (4 people):
½ liter tomato sauce
300 g cultivated mushrooms
8 quail eggs
2 garlic cloves
150 g dried sheep's cheese
50 g serrano ham chips
extra virgin olive oil
1 tablespoon oregano
Salt
parsley
Dough Ingredients (4 pcs.):
275 g medium strength flour (250 + 25 for stretching)
145 ml water
7 g salt
10 g fresh baker's yeast
10 ml extra virgin olive oil
Development
Place flour (250 g), water (145 ml), yeast (ground) and salt in a bowl. Mix the ingredients until the flour disappears. Cover the bowl with cling film and leave at room temperature for 30 minutes (autolysis).
Dust a work surface with a little flour, place the dough on top and open it slightly. Pour in the oil, coat the dough with oil and knead (about 5 minutes) until the oil is well absorbed. We round the dough, cut it into 2 parts and roll it up a little. Dust a plate with a little flour, place the balls on top, cover them with a clean cloth and let them ferment until they double in size (about 1.5 hours).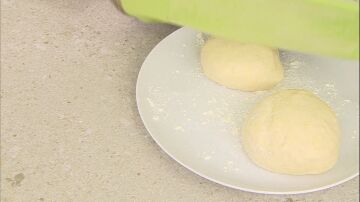 Sprinkle the work surface with a little flour, stretch 2 balls with your hands (you can use a rolling pin) until you get 2 thin bases (round or rectangular). To prevent the dough from tearing, you can stretch them in 2 stages.
Cover two baking sheets with a large piece of parchment paper and place the stretched dough on each.
Pour them with tomato sauce (leaving the edges free). Grate the cheese and spread it on top. Sprinkle pizza with oregano.
Peel and cut the garlic cloves into small cubes, fry in a pan with 2-3 tablespoons of oil until they begin to dance. Cut the mushrooms into strips, add, season, quickly fry (2-3 minutes) and put on the cheese. Also add ham shavings.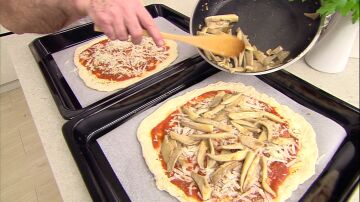 Preheat oven and insert baking sheets. Bake them at 220ºC for 18 minutes (after 9 minutes you can change their positions in the oven). Remove the pizzas, break 4 quail eggs into each, reinsert them and bake for another 2 minutes.
Serve pizza garnished with parsley leaves.
Advice:
After the dough balls are fermented, they can be frozen to be used on another occasion.