Carlos Arguignano starts the week with a "simple but wonderful dish": black pudding with ratatouille. This is a very simple recipe and Arguignano told us how to do it step by step.
Ingredients for 4 persons
1 veal shank (or zancarron)
1 leek
1 bulb
4 garlic cloves
350 g vegetable stew
flour and beaten egg (for coating)
extra virgin olive oil
20 black peppercorns
Salt
parsley
Development
Heat water in a pressure cooker. Add the shank, onion (peeled), leeks (peeled and cut in half), peppercorns and salt (to taste). Close the pot and cook the meat for 40 minutes from the moment the valve is raised. Remove the meat and strain the broth. Reserve them separately and wait for the meat to cool.
Heat a large amount of oil in a frying pan, crush the garlic cloves (with peel) and add them. Cut the meat into thick fillets, pass them through flour and a beaten egg, put in a pan and fry (in portions) on both sides. Remove and transfer to a plate lined with absorbent kitchen paper.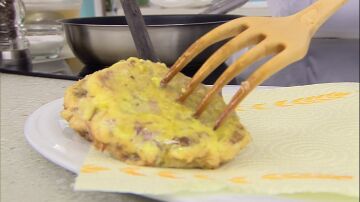 Place the sofrito in the skillet and heat up. Pour the broth into the pan and let it brew for 6-8 minutes over low heat.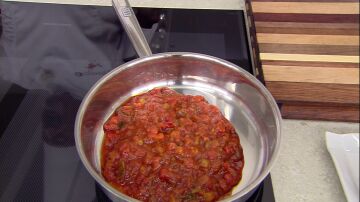 Serve 2-3 shank fillets, a clove of garlic and a serving of ratatouille on each plate. Garnish with a few parsley leaves.
Advice
Don't even think about throwing away the broth obtained by boiling black pudding with vegetables, because it is ideal for making delicious noodle soup.