After touring Spanish territory with the "Brugal 1888: El Ron Gastronómico" initiative to offer a shared experience to enjoy with "eternal friends", Brugal 1888 continues its gastronomic adventure, combining fine cuisine and exquisite cocktails of the author through two representatives of these two worlds. : Aristocrat, gourmet and chef Tamara Falco and bartender Diego Cabrera, recognized as one of the most influential people in the world of cocktails on the Bard World 100 list, come together to create a hedonistic experience around this ultra-premium rum that will delight the most daring gourmets.
With this new initiative, Brugal rum continues to promote the versatility of Brugal 1888 and its characteristic organoleptic properties, which are ideally combined with the highest gastronomy. Through a double aging process, in bourbon and sherry casks, this spirit acquires a series of nuances that stimulate the senses and inspired the creations of these two product ambassadors, whose motivation is to invite real friends, gourmets and the restless, to enjoy a new and an enriching experience in the innovative atmosphere of Salmón Gurú, an emblematic cocktail bar in Madrid, positioned among the top 50 best bars in the world.
On the one hand, Tamara Falco, who recently graduated from the prestigious Le Cordon Bleu as a chef and is passionate about gastronomic itineraries with her partner and friends, put all her haute cuisine knowledge into practice to reinterpret the 'Pavé de pollo' recipe. al Jerez', a traditional dish that takes her back to her childhood, "to those gatherings with family and friends that we had before," adds the chef and celebrity. "This is a recipe that has been in my family since I was about 8 years old and has always been very successful when I made it at home with friends, although Iñigo has not tried it yet… I am looking forward to his reaction. when he tries this variant of the dish.
For its preparation, Tamara took as a basis the formula she learned from Maria, her family's cook, to whom she dedicates her cooking: "She taught me this recipe many years ago and for whom I have a special attachment. She is a family friend." An interpretation based on chicken pavé marinated with brandy and oloroso, to which is added a sauce made from its own juice, combined with vegetables and mushrooms. A sherry-based dish that manages to enhance the character of Brugal 1888, an exclusive and unusual rum, thanks to its aging in sherry casks.
On the other hand, award-winning bartender Diego Cabrera has developed a cocktail that pairs perfectly with the nuances of Tamara Falco's recipe. '1888 Cañaveral' is the name given to a liquid composition based on Brugal 1888, a drop of freshly squeezed lime juice and cordial, an essential cocktail preparation that contains sour, sweet and spicy parts.
An original combination that also enhances the character of this ultra-premium rum. "In this case, we use amontillado, sugar, citric acid, and shiitake mushrooms, which give us a touch of umami, a fifth flavor on the palate, and enhance both the cocktail and the dish," explains the bartender, adding, "As a technique, we used shaking in shaker, which allows us to mix the ingredients while they are cooling. So in addition we are breaking up the alcohol molecules and thus dropping the liquor so that it can be a little smoother.
Brugal 1888 is the perfect balance of time, passion and experience from five generations of rum masters. A high-quality rum with a demanding taste thanks to a distinctive double aging process, first in American oak ex-bourbon casks and then in casks that previously contained Oloroso sherry. Its dark amber color speaks to this excellent ripening process, which also delivers spicy flavors of chocolate, coffee, cinnamon and dried fruit to the nose; while its extraordinary taste, light but rich in the mouth, has subtle notes of caramel, wood and licorice. Its aftertaste is long and smooth, and it stays nice in the mouth until the next sip.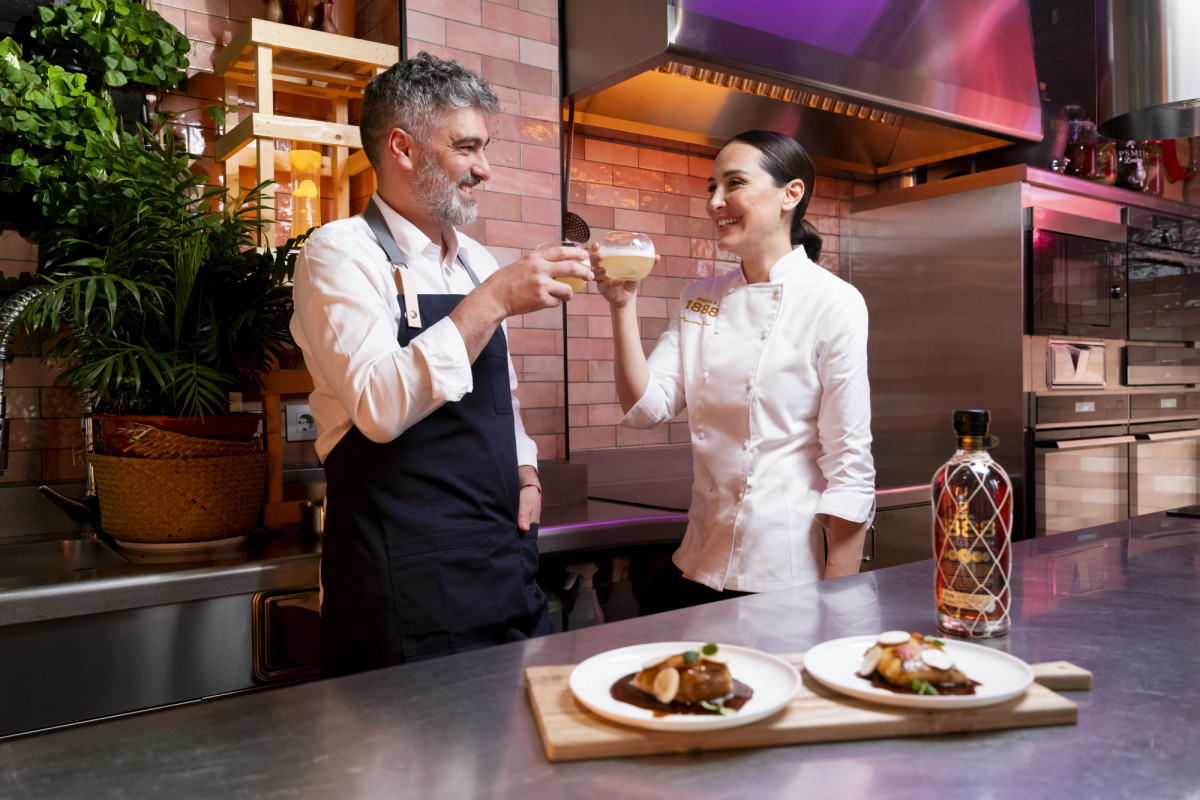 A rum that breathes a pure, light and pure spirit inspired the creation of a symbiosis of this proposal, which will be available on the Salmón Gurú ephemeral menu until July 31st at a price of 16 euros. In this way, Brugal 1888 manages to merge once again with the haute cuisine universe thanks to the "Brugal 1888: El Ron Gastronómico" initiative, which aims to offer an exclusive experience for those who love to discover and enjoy new culinary offerings with friends.
.